Full design process
We created a brand new design, following our unique design process.
Bespoke WooCommerce theme development
The site theme was entirely custom built, giving the client an easy to use CMS, with all the benefits of WordPress.
Speed optimisation
We took time to make sure the site loads quickly on all devices, and passes Google's Core Web Vitals tests.
SEO technical auditing
The site has been fully checked for technical SEO compliance, for the best results in search engines.
Bespoke development
We've added several pieces of custom functionality to improve the user experience and ease of management.
We had already undertaken some development on the previous website, as well as working with Equestrian Fencing on their Google Ads and other marketing activities. The previous site was built on a pre-built WooCommerce theme, which meant we were both unable to improve the design and functionality to required levels within the existing site. This led to a conversation with the client where we mapped out all new required functionalities (and some potential future ones), as well as establishing firm brand guidelines to aid in the design process. 
Once we had completed the website scoping stage, we moved on to wireframing a brand new design for the site which included things like trade account functionality, custom trade pricing, a toggle to include or exclude VAT  and various other elements. The client also wanted to be able to control various messages across the site easily and quickly, as well as managing click and collect and delivery timescales themselves.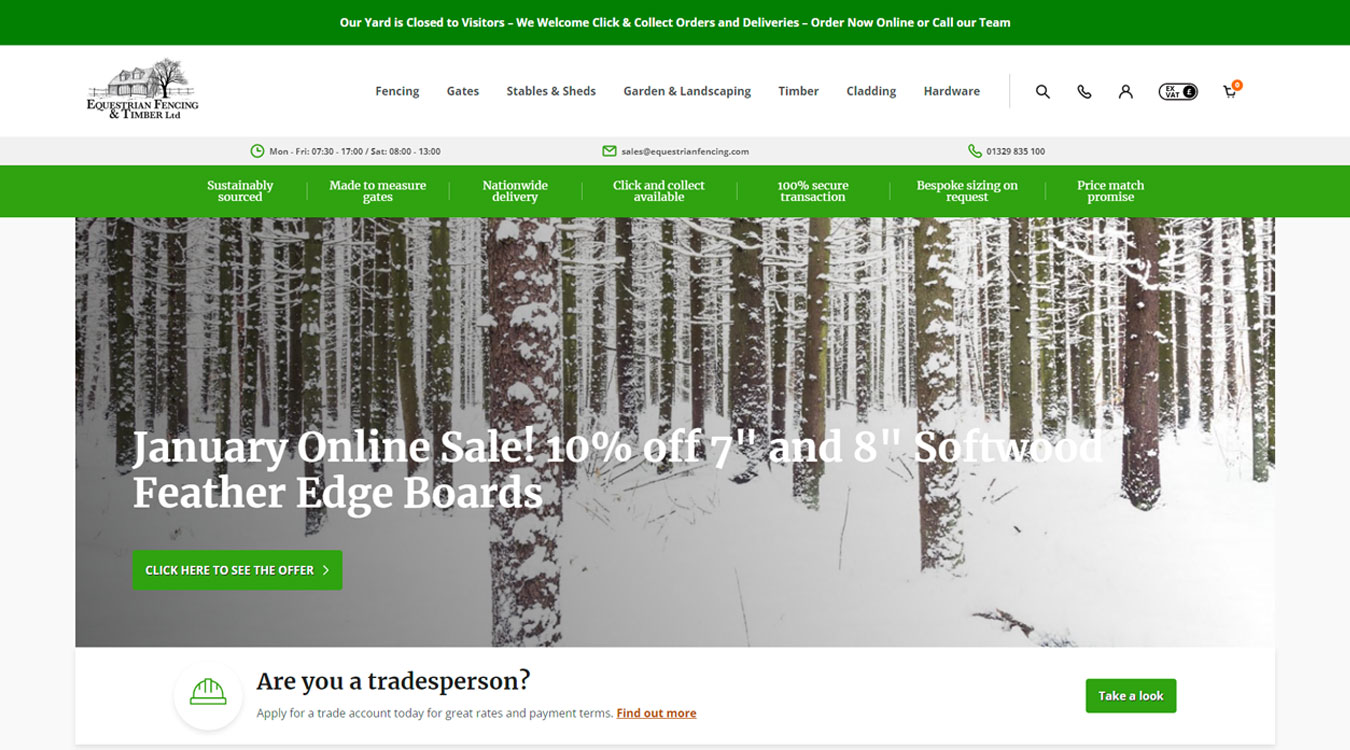 Once the client was happy with the designs, we began work on building a bespoke WooCommerce theme to bring them to life. Our goal was to make use of WooCommerce's native functionality for product management, whilst using Advanced Custom Fields to add additional editable elements for the custom functionality. What we ended up with was a number of extra fields placed between the existing WordPress ones, allowing for quick and easy management.
Since launch, we have added a number of other useful functionalities including a bespoke stock management plugin which quickly shows the stock status of product variations from a single screen. We have also created a custom area within the site for managing click and collect orders and customer deliveries as well as allowing customers to create saved baskets for quick access to them later.
The result is a fantastic site which has been hand-crafted to meet the unique requirements of the client. We are especially pleased with the trade account functionality and new click and collect management system. To avoid any disruption to the site, we arranged a time to switch the sites over in the early hours of the morning during the week.
We encourage you to visit Equestrian Fencing and Timber for any timber, fencing or home DIY products.